Services Provided by Infinity Software Systems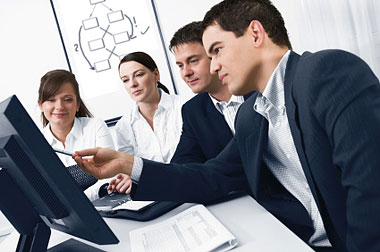 Electronic Mail Systems
We have a great deal of experience and knowledge in implementing and maintaining electronic mail systems. "E-mail" is one of the most essential uses of a high-speed Internet connection. We will help you decide what type and scope of electronic mail system is most appropriate for your organization. We can also assist you in obtaining a unique "domain name" for your e-mail system that reflects the professional identity of your organization.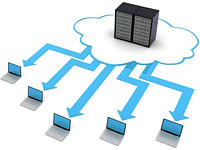 Cloud Computing
We are very focused on the "cloud" computing options currently available. Putting the bulk of your IT system "in the cloud" can result in substantial cost savings for you. It also largely relieves your staff from having to maintain a complex, in-house computer system.
Cloud computing can be very cost-effective for your primary line-of-business application software. It also offers many advantages for more basic services, like electronic mail, word processing, schedule/calendar systems and so on. Infinity Software has worked extensively with both Google Apps for Business as well as Microsoft Office 365.

Custom Programming
We have offered expert custom programming services since Infinity Software Systems was founded in 1986.  We have skilled, highly experienced programmers on our staff that are "fluent" in many programming languages. As part of the custom software creation process, we create detailed program specification documents so you know exactly what the custom program will do for you.  Please let us know if you have any custom programming needs and we will review your project carefully.

Training
Infinity Software Systems has provided extensive training services since we started our company. We believe that it is essential that our clients know and utilize the capabilities of their computer system as much as possible. We assist you in reaching that goal via educational training sessions conducted by capable, qualified instructors who really know the areas they train in.
Our training services can cover any aspect of your system, from hardware to software. That said, we have found that the most beneficial training often involves core line-of-business application software. As an example, we offer comprehensive training on the Microsoft Retail Management System (RMS) software. With RMS and our other training, we will consult with you to determine exactly which areas you want to focus on.  We do not use canned, template training methods.  We tailor each training session to meet your specific needs.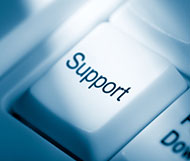 Legacy System Support
Our experience in the computer industry goes all the way back to the days of the original IBM personal computer (PC). We have been continuously involved in the industry since that time. On average, our technical staff has been with Infinity Software Systems for nearly fifteen years!  Based on this longevity and expertise, we offer skilled technical support services for legacy computer products and systems. In the fast-changing world of computers, this can be a difficult service to find. For example, we can assist you with Novell networks (NetWare, GroupWise, etc.). 
Our senior network engineer attained the highest credential offered by Novell (master CNE), and brings that knowledge and experience to bear on client problems. We are very comfortable stepping back into the era before graphical interfaces were the norm. We know DOS, Lantastic, coax networks, and various hardware devices from yesteryear.  Please contact us if you need technical assistance with legacy products or systems.  We'll do our best to assist you.
Small Business Specialists
Infinity Software Systems specializes in computerizing small businesses. We handle all aspects of the process, including hardware, software and networks. We have the experience and technical skills to assist you with this highly important process.
Computer Systems for Retailers
Due to the background of our management, Infinity Software has special expertise in computerizing retailers. As former retailers ourselves, we thoroughly understand the unique business needs and practices of the retailer. We combine a thorough grasp of retail business with the knowledge of how to best apply today's technology to benefit the retailer.
Hardware
We understand (and enjoy!) technology. Like true geeks, we are constantly reading and learning about the latest advances in hardware. We bring this knowledge and experience to the hardware selection process for our clients.
Software
We will work closely with you in choosing both system leveland application software. "System level" software includes the underlying foundation programs that allow your hardware and application programs to communicate. One example would be operating systems, like Windows, Linux,Mac OS, etc. "Application" software is the highest level of a computersystem. These are the programs that you actually use and care about (such as an accounting system, a wordprocessing program, electronic mail, etc.). Simply put, without the correct choice of application software, you will not receive the potential benefit of a computer system. The application software is the whole reason for the layers underneath. Without appropriate application software, a computer is just "dumb iron."
Networks
Essentially, networks allow multiple people to share computer resources (e.g., printers, programs, Internet connections). Our staff is highly trained and skilled in network design, implementation and post-installation support. Our network services include:
network cable installation (the backbone of the network)
server configuration and installation
workstation configuration and installation (hardware and software)
selection, installation and support of other network hardware (router, switch, high-speed printer, etc.)
network server operating system selection and deployment
site survey, selection and installation of wireless networks and all associated components
Security and Threat Detection/Prevention
We will thoroughly audit and analyze your system for potential security vulnerabilities. In conjunction with you, our goal will be to apply the necessary safeguards to keep you system secure and your valuable data confidential.

High Speed Internet Access
Today, virtually every organization requires high speed (broadband) Internet access. We are experts at implementing the most cost-effective methods to bring this crucial service to your staff. We also address the additional security problems inherent in shared Internet access.